Store
Store
Simplicidade: Live At Yoshi's
Simplicidade: Live At Yoshi's, featuring special guest Jovino Santos Neto, was recorded July 5, 2010 at Yoshi's in Oakland, CA, and captures the band in full flight on a very special night. Having both the intricate arrangements of choro classics from the core Falso Baiano quartet, as well as tracks with the expanded group featuring Jovino on piano (and accordion) and guest percussionist Brian Rice, Simplicidade contains the power, precision and passion Falso Baiano is known for in a live setting.
Shipping (Additional copies):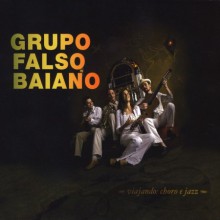 Viajando: Choro e Jazz showcases Grupo Falso Baiano's blend of traditional Brazilian choro music with modern influences. The repertoire on the CD spans over 100 years, with creative, jazz-influenced arrangements of both classic material and works by modern masters.
Shipping (Additional copies):
The Supporting Theory by Blowout is "..clever and sharp, witty and urbane, but most especially fun. All of the compositions emphasize a true collective sound with no one instrumental texture predominating… Think Kenny Wheeler's Angel Song ensemble." (JazzReview.com)
Shipping (Additional copies):